CALLING ALL TAP DANCERS!!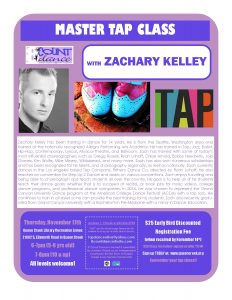 8*Count Dance invites you to come take a
Master Tap Class with Zachary Kelley!!
Thursday, November 17th at Queen Creek Recreation Annex
6-7pm (ages 5-9yrs old)
7-8pm (ages 10 & up)
$25 Early Bird Discounted registration fee (if received by November 14th)
$30 class fee (if registered after 11/14)

*All levels welcome*   SIGN UP TODAY: www.queencreek.org

Zachary Kelley has been training in dance for 14 years. He is from the Seattle, Washington area and trained at the nationally recognized Allegro Performing Arts Academy. He has trained in Tap, Jazz, Ballet, Hip-Hop, Contemporary, Lyrical, Musical Theater, and Ballroom. Zach has trained with some of today's most influential choreographers such as Gregg Russell, Ryan Lohoff, Chloe Arnold, Bobby Newberry, Jojo Gomez, Kim Wolfe, Mike Minery, Wildabeast, and many more. Zach has also won numerous scholarships and has been recognized for his talent, and choreography regionally, as well as nationally. Zach currently dances in the Los Angeles based Tap Company, Rithem Dance Co, directed by Ryan Lohoff. He also teaches on convention for Step Up 2 Dance and assists on various conventions. Zach enjoys traveling and being able to choreograph and teach students all over the country. His goal is to help all of his students reach their dance goals; whether that is to succeed at recital, or book jobs for music videos, college dance programs, and professional dance companies. In 2014, he was chosen to represent the Grand Canyon University Dance program at the American College Dance Festival (ACDA) with a tap solo. He continues to train in all styles so he can provide the best training for his students. Zach also recently graduated from Grand Canyon University with a Bachelor's in Pre-Medicine with a minor in Dance Education.
REMEMBER TO BRING YOUR TAP SHOES!