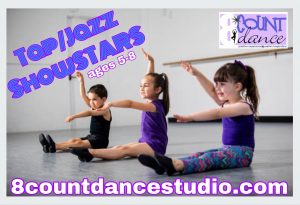 💫Tap/Jazz ShowSTARS💫
Wednesdays at 4-5pm
Ages: 5-8
🌼Spring Session A starts THIS Wednesday, January 23!
✏️Sign up today!!: 8countdancestudio.com
💫This class is perfect for the dancer who has taken at least a year or more of consistent dance. Students continue to master Al Gilbert Grade 2 tap and jazz programs. Tap and jazz shoes and taking both sessions are recommended. Session B will end with our Spring Recital on May 25!
#8countdanceaz #dancefriends #tapjazzshowstars