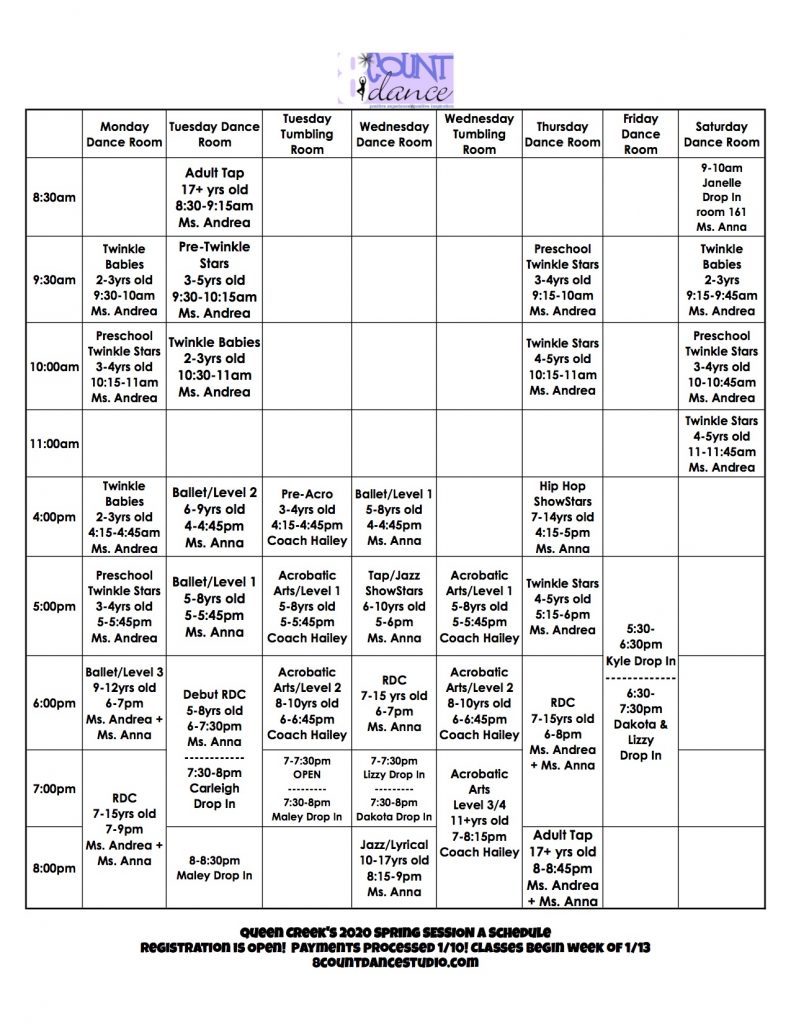 🌻Register TODAY for Spring classes!!👯‍♀️
🚨Don't miss out on your favorite class!! The following classes are subject to cancellation due to low enrollment🚨:
ACROBATIC ARTS/L2 – TUES at 6P
TAP/JAZZ SHOWSTARS – WED at 5P
ACROBATIC ARTS/L1 – WED at 5P
PRESCHOOL TWINKLE STARS-THUR at 9:30A
HIP HOP SHOWSTARS – THUR at 4:15P
👉 8countdancestudio.com 👈
👉 https://app.jackrabbitclass.com/regv2.asp?id=502868 👈
*Payments will not be processed until January 10 beginning at 12pm! Don't miss out.. reserve your spot now!!
‼️Get PRIORITY SIGN UP to Session B for students enrolled in Session A! We will end Spring Session B with our Spring Recital on May 23 (with rehearsals on May 19 & 21) at Desert Ridge HS Auditorium!!
👀Check out our NEW online store with suggested items for each class. Shop 24/7: shopnimbly.com/8countdance
👯‍♀️Need ballet shoes? Try out our sizing kit in the Dance Room to find your perfect size!
Town of Queen Creek Parks & Recreation (Official) #8cd #8countdanceaz #dancefriends #bringafriend #tap #jazz #ballet #tumbling #acro #hiphop #twinklebabies #twinklestars #showstars #rdc #rubydancecompany #eightcountdance