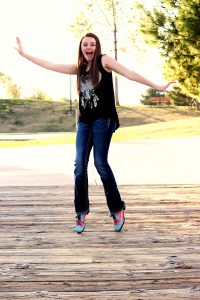 Meet Ms. Adrianna Polyak, Cheer, Tap and Jazz, has been dancing since she was two years and three months old! Adrianna starting dancing at the Gilbert Park & Rec, Bridget McCarter Dance Academy in Gilbert then moving to Queen Creek to dance with K&K Dance Studio & KKDC, plus dancing with 8*Count Dance. She has been trained in Tap, Jazz, Ballet, Hip Hop, Contemporary, Musical Theatre and Tumbling. Over the years she has competed at numerous competitions thought out the Valley and performed in Disneyland a few times. Many of the dances received Platinum, High Gold or Judges Awards. Adrianna was awarded "All Star Dancer" with her "Human" Tap Solo at the Hall Of Fame Dance 2011 and was invited to dance at Nationals. In 2012, with KKDC, the company was in invited to New York for "All Stars" week. They took master classes at Broadway Dance Center, with Radio City Rockettes and cast of Broadway Shows.  Adrianna tried out for the Tap 24.7 Company & preformed in the production "In the Pocket" in 2014 and "Tap My Sole" in 2015 for  National Tap Dance Day In May. In 2014, competed at Step Up 2 Dance, received a Platinum and 2nd over all for high scoring for her Tap Solo, "In My Pocket".  In 2015, competed at Step Up 2 Dance, received High Platinum and 3rd over all for high scoring for her Tap Solo, "Love Yourself". At the same competition, Adrianna also received a Platinum for her Contemporary Solo, "Roll Up Your Sleeves".  
As a incoming freshmen, Adrianna made the Varsity Pom Team at Queen Creek High School and was on the team all four years in High School. Adrianna was Varsity Pom Team Captain for the 2015-2016 Season. Being the Captain of the Varsity Pom Team, she was invited to apart of Varsity Sprint Spectacular, where Adrianna performed in a parade throughout the streets of Disney World.  She was participated in Student Council her last two years at QCHS, as Junior Vice President 2014-2015 and Senior Class President 2015-2016.  
In 2014, Adrianna competed in her first state pageant with America U.S Miss, she was crowned 1st runner as Junior Miss Arizona 2015. As 1st runner, she was able to be apart of their Ambassador Program and able to go to Nationals to competed for a National Ambassador title. In July 2015, she competed in here 1st National pageant and was crowned America's U.S. Junior Miss 2015 Ambassador. In October 2015, Adrianna competed in her 2nd State pageant and was crowned Junior Miss 2016 with America's U.S Miss. During the 2015-2016 year of balancing a National and State Crown, Adrianna was able to log 400 hours of community service and 50 appearances.  She collected 2,000 pairs of shoes for Fund2org.com, Make-A-Wish Walk, Relay for Life, Feed My Starving Children just to name a few. Adrianna visited numerous Girl Scout Meetings, Events & Cookie Kick Offs across the state, speaking about goal setting and cookie sales. In July 2016, she competed in her 2nd National Pageant and was crowned America's U.S Junior Miss 2016 and America's U.S Miss Royal Wish.
Currently Adrianna is attending CGCC to obtain her degrees in Nursing and Child Psychology.